European 7" Headlight conversion- 70-87 XJ6, XJ6C, XJ12, XJ12C, Mk X/420G
Coming soon in 2018- stay in touch!!!
After being unavailable since late 2004, Jaguar Specialties is pleased to soon again offer the OE Jaguar European 7" headlight conversion kit for 70-87 XJ6, XJ6L, XJ6C, XJ12, and XJ12C models. Will also fit Mk10/420G. This is a very rare kit (no US dealer carries it) and it is used to convert to the US cars to the more attractive and better lighting of the factory European 7" outer headlamp configuration. All of the US cars came with the wimpy 5 3/4" outer headlamps that both looked bad, and also provided poor lighting. This is the complete conversion- all of the required Jaguar parts are included. The kit contains: 2 brand new XJ6 7" chrome headlight trim rings (just gorgeous), 2 brand new OE Jaguar plastic 7" headlight buckets, 2 brand new headlight bucket to body rubber seals, and new mounting hardware. These buckets are the newest and best design; they will never rust and have the greatly simplified and improved headlight adjustment mechanism. This new mechanism will never break or wear out like the old ones did.


Performing the conversion is easy-
Remove your existing headlight trim rings and buckets
Transfer your existing wiring to the new buckets (a new bucket wiring grommet is included if you need it)
Mount your new headlight buckets into the fenders with the provided 4 new screws
Install your new 7" headlights and adjust them to your liking
Install the new outer trim rings with the original screws from the old trim rings
Enjoy your car's new look.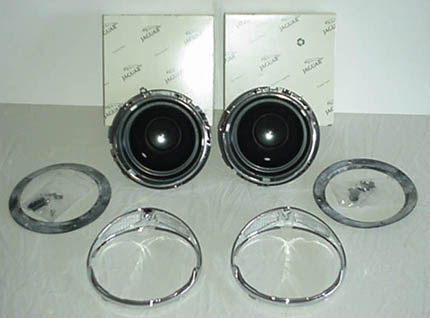 This whole process should take about 30 minutes. All you need to provide is a pair of 7" headlamps themselves- these are available at any auto parts store, and good halogen types (like Sylvania) are about $6 each brand new.
One note- the new 7" trim rings do have the vent screen opening, so the fresh air ventilation systems of the early cars can be maintained. (see trim ring detail photos below)
Cruise Control Repair- XJS 82-92, and XJ6 80-87
Every Jag owner loves the feel of blasting down the highway, engine humming, that nice confident ride, with a great tunes blaring, and the cruise control set at 80. What- your cruise control doesn't work?? Well, not to worry- 95% of all Jaguar cruise control problems for these models are related to the bellows on the cruise actuator. The original (British) rubber material was of poor quality, and the bellows degraded quickly, developing cracks on the sides, loosing its ability to seal to the end caps. A leaky bellows (one that doesn't hold vacuum) is the key failure point. Jaguar Specialties offers an aftermarket replacement bellows, made form a superior rubber material, and this part has been responsible for fixing cruise problems on multiple customer cars. Installation takes at most 30 minutes and can easily be accomplished by the end user at home. And the best part of this all is that our replacement bellows costs only a fraction of what the Jaguar dealer charges for the original unit. How about that- a better part at a lower price- amazing.
XJS License Lamp Lens Set Upgrade
If you own a 76-92 XJS coupe, cabriolet, or convertible, you're well aware that the license lens situation on these cars is abysmal. The original Jaguar lens retainers on the trunk lid lip were made of a pathetically inadequate plastic that quickly deteriorated and allowed the lenses themselves to hang loose on the trunk. This may not sound like a big problem, but those very same lenses also hold the license lamps (bulbs) themselves, and wiring, so with them fluttering around loose, you have the possibility of shorts, blown fuses, and even wiring damage. Luckily, plastics have progressed a long way since '76, and Jaguar Specialties has a superior replacement license lens and retainer kit to cure this problem. Once the new kit is installed, it is likely that you will never have to replace these pieces again. These aftermarket kits have the exact appearance of OE, so the appearance and/or collector value of you car should not be impacted. This is a relatively simple installation that takes about 1 hour, and can be accomplished by the end user at home. The kit is very reasonably priced (actually, our price is about ¼ of what Jaguar dealers charge for the inferior OE pieces, and 40% less than other retailers), and it is just the thing to put your XJS in tip-top shape. See the photos below of the kit itself, and some before and after shots. if your car looks like the before shot, you need this kit!!!!
Before License Lens Upgrade
After License Lens Upgrade- What A Difference!!!