Tech Tip #1- Jaguar V8 Conversion Radiators
Until about ten years ago, the only radiator choice for Jaguar Chevy V8 conversions was the 4-row brass type. Typically, a mid-70's Corvette radiator was used- it had basically the correct overall dimensions, but needed some modifications to work in the Jag. These changes included revising the lower hose fitting, and changing the filler location- not trivial. The end result would generally work well in the converted car. The down side on the brass radiator is that it's heavy, expensive, had to be modified to fit the car (so getting a quick replacement could be difficult), and that eventually they corrode and leak. Here's a photo on my own 85 XJS with this earlier radiator type- note the remote filler.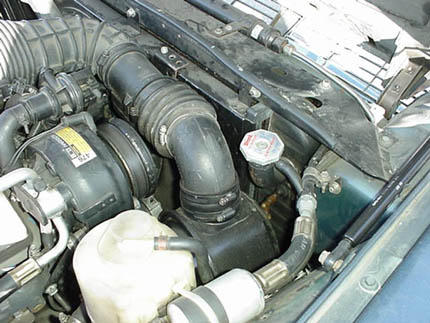 In the mid 80's, plastic/aluminum radiators were standard on many GM cars, and became another option for the Jag-V8 conversion. They are light weight, have a greater cooling capacity (in most cases better than the 4-row brass types), and can be used virtually off-the-shelf with no modifications. They are also usually backed with a LIFETIME warranty (wow!), and are about 1/3 the cost of the brass type (that's a big savings). The model originally designed for 87-90 5.7 L Camaro IROC/Z28/TransAm is a perfect fit for either the XJ6 or XJS (it usually has a model number of 951). This is the radiator I suggest for all conversions except LT1 and LSx installations. The only modification required is actually to the car- a 3" x 3" hole is cut in the top of the Jag radiator header plate for access to the filler cap. Take a look at the pictures to see how the "mod" looks. The radiator sits clamped in place (top and bottom) using standard Camaro rubber isolators that are glued to the top of the lower radiator support, and to the underside of the header plate. Another nice advantage for using this radiator in the Jag is that all of the stock (molded) radiator hoses for the Camaro fit perfectly. If your engine doesn't have a heater line return fitting (the TPI engines don't- they utilize a return fitting on the right tank no problem- this radiator has that fitting. For other engines, you can eliminate that goofy heater hose to the water pump. Here are a couple of shots of this radiator type installed in both my daily driver XJ6 and my XJS convert that is under construction. (these shots show the header plate modification on both cars).