Every now and again I'll post my latest "organ donor". No, it's not for a heart or liver, but for a great engine and trans (a different sort of heart transplant). Here are a few of the more recent notable donors.

November, 2002

This car is the donor for my 88 XJSC conversion- it's a 1997 Camaro SS convertible. The SS was a "tuner" car, manufactured for Chevrolet by SLP (Street Legal Performance). These cars started life as new regular Z28's, but were then sent to the SLP facility for performance modifications. On this particular car, the OE Chevrolet version was rated at 285hp, where the SLP version (the "SS") with a rating of 325 hp. SLP modifications included a cold air induction package (with a new hood and inlet airbox), 17" ZR1 tires and wheels, uprated springs, Bilstein shocks, bigger sway bars, a bigger rear spoiler, plus that all-important interior badge.

Anyway, this car is perfect as a swap donor- it has only 44000 miles, and as an added twist, has the neat 6 speed manual trans with double overdrive. Aside from the obvious damage, the car was in great shape mechanically and will thus donate its "heart" to a Jaguar. This is the best way to do a conversion- buy a whole car where you can see how everything is put together; that way you stand the best chance of it all going together properly in the new car. And as an added benefit, you can sell off all of the unneeded parts to offset your investment. In some cases, there is enough to sell to make back all of your money. After these photos were taken, the car was stripped down to nearly nothing with only the engine, trans, wiring, exhaust, and radiator remaining. All of the extras were sold through Ebay or Camaro websites- isn't the internet great???

See the "Project Car" page for the latest details on the XJSC conversion with this drivetrain.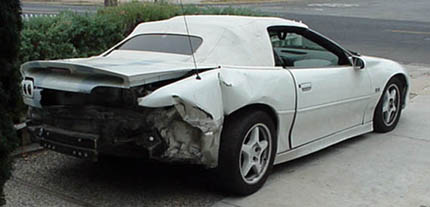 Update- November, 2004
Here's another recent addition to the effort. This particular car is the cream puff we all look to find as a donor for a conversion-95 Camaro Z28, 5.7 LT1-6spd, under 60k original miles, babied with plenty of records (and an owner who got caught with a wreck and no collision coverage on his insurance policy). Too expensive to fix out of pocket, and no insurance to pick up the bill. It had some nice upgrades- K&N intake, throttle body air foil, Hypertech Power Programming, cooler thermostat, and a bigger exhaust. Nothing too radical- just the nice simple stuff. Don't feel bad- it will go a long way towards extending the life of a nice Jag, so good for us. Plus I'll get to sharpen my EBay skills offloading all of the extra parts online. Anyone need a set of Camaro seats?????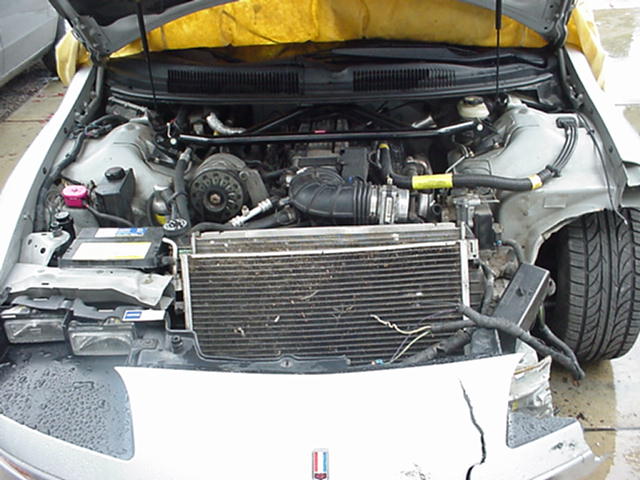 Update- June, 2006
And now another addition to the family in the form of a 95 Z28 convert. This was actually a beauitiful car before being stolen and wrecked. Although the damage in front looks bad, it's not as severe as it appears. The car was also hit hard in the driver's door (notice how the convertible top is bowed up- the top frame is actually bent). The car had only 68k miles, and that nice engine/trans package will go a long way into keeping a nice Jag on the road.....