Introducing Project XJLS-C

An XJ Coupe with European flavor, modern handling upgrades, and a 400 hp LS2 + 6 speed manual trans surprise under the hood.......

Part 1

August 2023

Hello all. So I wanted to introduce you to a new project we have going on here at Jaguar Specialties, and that is our XJLS-C, a 2 door XJ coupe. Before I get into the details, there is one thing nearly every Jaguar enthusiast will agree with: The XJ6C and XJ12C (2 door) models made from 1975-1977 were one of the most attractive designs produced by the company. Despite limited budgets and significant engineering challenges, Jaguar finally brought the cars to production and they have remained popular since. The entire manufacturing run was limited but a surprising number of the cars still exist, I think, because owners knew they were special and should be looked after a little more carefully. And I've always liked them too- back in 2007 when we started the first development work on LS engine conversions for Jaguars, the very first car we used was a 75 XJ6C. The project went very well, the XJ6-LS conversion became very popular, and I still have the car. That car, however, was very very custom - full body kit (it was on the car when I got it), big wheels/tires, special interior, of course the LS conversion (this one with an automatic). I always thought about doing another one, but something more under-the-radar: standard appearance/body, more period upgrades (Euro bumpers, Euro headlights, etc.,.), with LS power but this time a manual trans. So I kept an eye out for a good candidate and went off to work on other things…..

Fast forward through the next 13 years: we developed LS conversions for the XJS, XK8, and XJ8 models (with automatic or manual transmissions), worked with a supplier to reproduce the 7" European headlight conversion for the S1-2-3 XJ6, tooled up to make manual pedal boxes for XJS and XJ6, and more. Then, in late 2021, in the middle of the Pandemic, a local hot rod shop (that had actually built up a 76 XJ6C with LS power using one of our packages a year or 2 earlier) announced they were closing. The owner had liked the XJ6C they built so much he bought another one (a 1975 version) to do for himself. Now with the place closing, that project was never going to happen; he called me to see if I would want the car. And there it was: my chance to do another XJ coupe, the way I wanted. Overall the car looked pretty straight and was a Southwest car (Arizona, more details on the ups and downs of that later……). It had been converted to a Chevy 350 and T350 trans years ago (with a Mundorf kit- do you remember those??), but hadn't run in forever. The body was pretty decent, it had a very faded tan velour interior, and the windshield had been removed and used on the other car the shop had built. For us in California the fact that the car was a 1975 model was a special bonus as it would be emissions exempt (not a small deal). Here are some pics of it as it arrived- not spectacular, but good bones.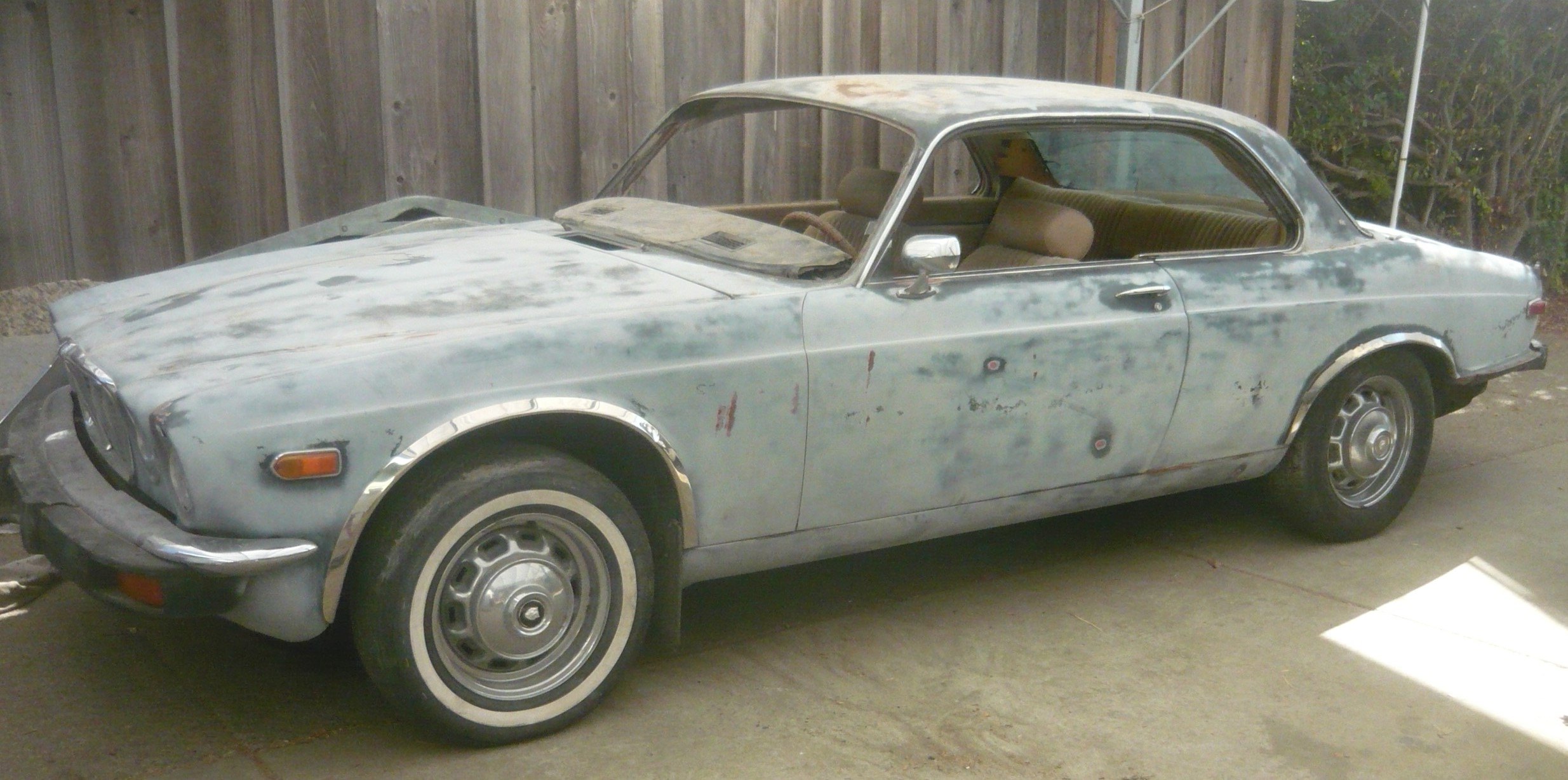 Moving forward I'll share a series of articles on the buildup so you can follow along. But just to give you a sense of direction on the project, here's my general plan for the car:
Body-
Standard bodywork with side lights removed
Upgrade to European bumpers
Upgrade to European 7" outer headlights.
Interior-
Upgrade to late XJS3 Vanden Plas seating and interior trim. Original Jaguar gauges and AC system with proper function
Drivetran-
Engine: 2006 GTO LS2 6.0L - 400hp
Transmission: T56 (6 speed manual)
Pedal box: Jaguar Specialties drop in manual pedal box with Wilwood clutch master
Exhaust- 2.50 " mandrel bent dual exhaust with central X-pipe
Intake- High flow cold air intake
Cooling system- Modern design OE style aluminum/plastic radiator with twin electric fans
Front suspension-
Updated to late model XJ Series 3 sedan components + upgrades:
Larger wheel bearings
Brembo rotors
Refurbished calipers with stainless pistons
Performance brake pads
Stainless brake hoses
1" front sway bar upgrade with polyurethane bushings
Polyurethane upper and lower A-arm bushings
Late XJS ZF steering rack with polyurethane mounts
Lowered front springs
KYB shocks
Rear suspension-
Updated to late XJS specs- 95-96
3.54 differential with posi
Outboard brakes
Vented Brembo rotors
Refurbished XK8 rear calipers
Stainless brake hoses
Lowered springs
KYB shocks
Uprated rear cage mounts
Polyurethane trailing arm bushings
¾" rear sway bar with polyurethane bushings
Follow along as we go and see the car come together (And here's a teaser- the GTO LS2 engine and T56 trans.……)
Side note- this car came to us in Sept 2021 and immediately became useful on a not-completely-unrelated project I wanted to do for some time- a European bumper hardware/mount set. Switching over to the S2 Euro bumpers has been a very popular conversion here in the US for some time but some key parts have become impossible to find (like a complete set of the required front hood hinges/bumper mounts. Using this car we tooled up to manufacture all of the pieces needed to do this conversion – correct left and right front hinges/bumper mounts, rear hardware, and misc pieces. We now offer a basically bolt in installation kit for just that- Euro S2 bumpers onto any US based Series 2 car (and this kit will also work on US Series 3 models as well…..). Some pics of the completed bumper install are below….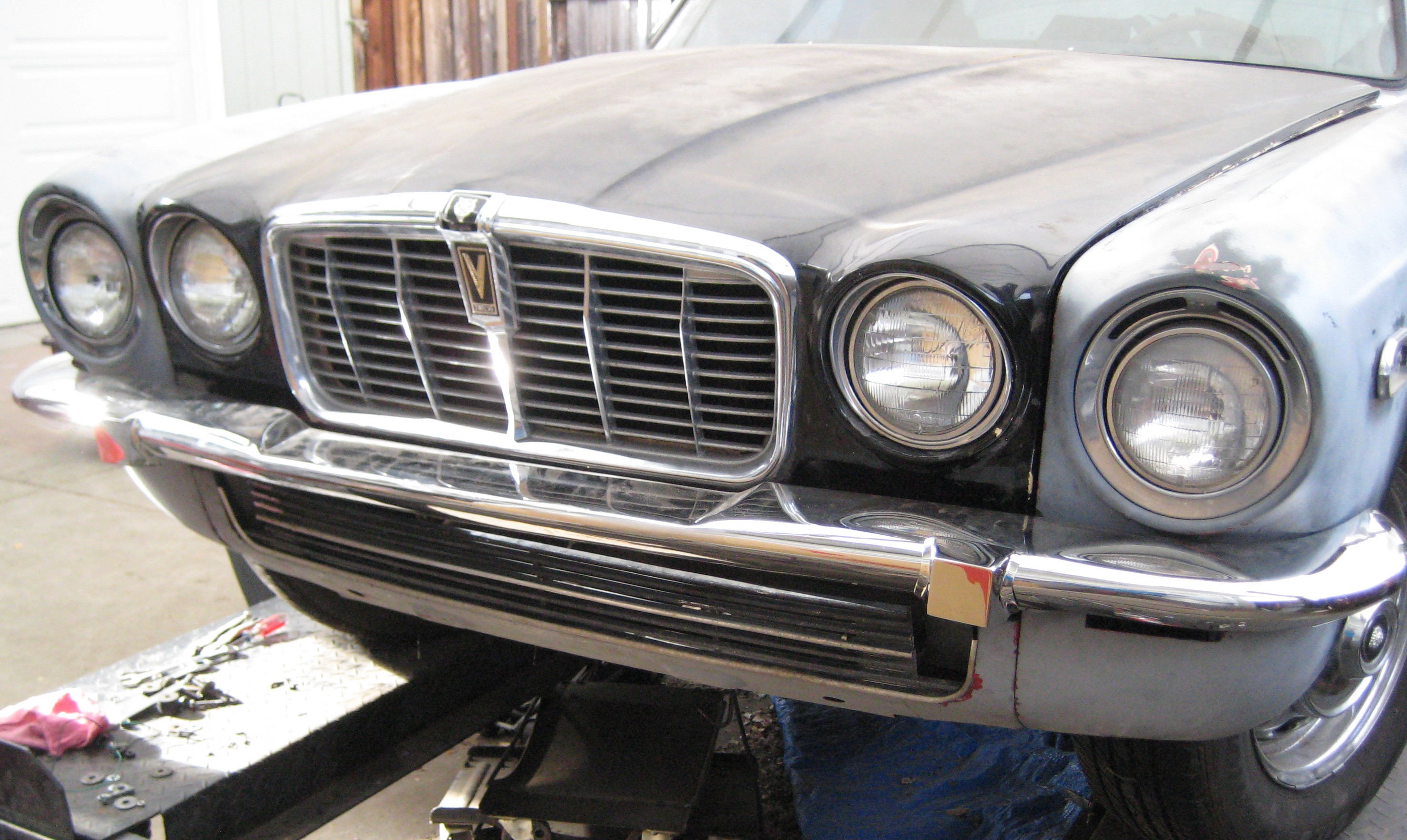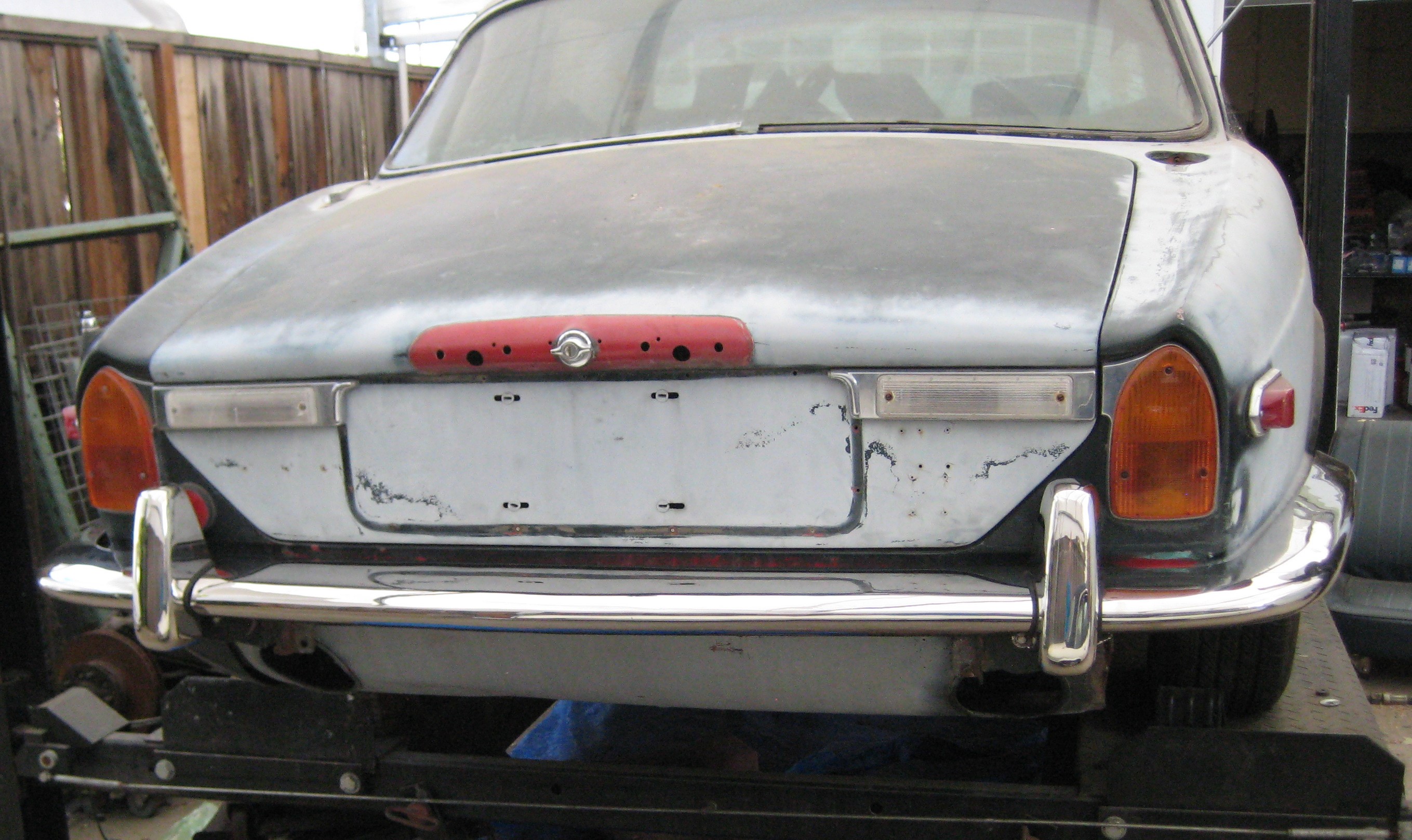 Questions or comments?? Send me an Email: andrew@jaguarspecialties.com
Talk to you soon,
Andrew