Rear Suspension Conversion Kit
88-94 XJ6, Sovereign, and Vanden Plas
From the initial introduction of the new Jaguar sedans in 1988 in US (and 1986 in the rest of the world as the XJ6, Sovereign, or VDP, also referred to as the XJ40 models), the factory installed self-leveling rear suspension was problematic. Jaguar owners and the dealerships lived with leaking rear struts, sagging rear suspensions, and harsh ride characteristics for 6 years until the system was dropped in 1994. During that time, the factory introduced a conversion kit to replace the self-leveling components with a standard shock/spring arrangement. Although this new hardware fixed the problem, it was hugely expensive (on the order of $1500 for the kit). This left a lot of Jaguar owners out in the cold, having to either live with the original suspension issues, or pay that exorbitant price for the retrofit.
Fortunately the aftermarket came to the rescue and developed a parallel kit to accomplish the same goal. KYB has developed a rear shock conversion kit that will convert the rear suspension on an XJ40 to standard style shocks/springs, and has done it at a very affordable price. Jaguar Specialties offers this kit and it has been very popular. One note for XJ40 owners considering this conversion: you may see shock conversion kits priced even lower than our kit, but there is an important distinction to be made. The correct and proper way to do this conversion requires new shocks AND new springs. The less expensive kits usually do not include new springs, requiring you to reuse your old springs. That is a major deficiency, as the original springs from the self-leveling suspension were never designed to be used in a standard shock arrangement; also, due to failures of the original self-leveling shocks, the original springs are usually heavily fatigued and prone to serious sagging. Either way, using the old springs will lead to early suspension failure, quite possibly also damaging your new standard shocks, and perhaps other rear suspension components.
The Jaguar Specialties XJ40 rear shock conversion kit includes the following:
1) New KYB Gas rear shocks
2) New OE style (non self-leveling) springs
3) Conversion hardware kit
4) Installation instructions

The kit can be installed either by your mechanic, or by the do-it-yourselfer. The only special tool required is a spring compressor. A photo of the complete kit is attached below.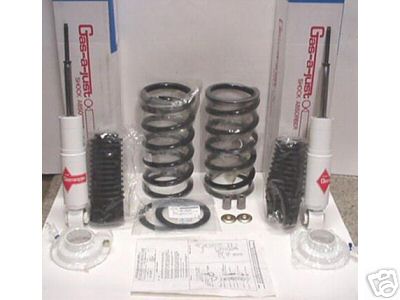 Note: Matching KYB gas front shocks are also available. Please see the price list for details.