Polyurethane Suspension Bushing Upgrades
Steering Rack and Front A-arms - 70-87 XJ6/XJ12 and 76-96 XJS
Steering Rack Bushings
Everyone knows that Jaguar XJ6 and XJS cars have a reputation for superb ride and handling, and indeed itís true. However itís also true that the factory steering rack mounts (made of poor quality British rubber) tended to deteriorate and fall apart quickly. This problem leads to a loss of steering feel, vague steering response, and wandering on the road- all very dangerous.
The solution to this problem came from the aftermarket in the form of a polyurethane version of the Jaguar rack bushing. Polyurethane is tremendously resistant to oil, fuel, and other harsh elements found in your Jaguarís engine compartment. Plus, it is a stiffer compound than rubber, so steering feel and response is greatly improved. This is the single greatest improvement to the overall driving experience that you can do for your car. Itís truly a win-win situation- longer lasting parts that perform better as well. This kit is for 70-87 XJ6 and all XJS cars, and can be installed at home by the do-it-yourselfer, or by your mechanic. And once theyíre in, youíll never have to deal with them again- theyíre that tough. There have been some orange or red bushings of questionable quality offered to the public-please donít confuse these with those inferior types. These are black in color, and are the same type typically supplied to professional Jaguar repair shops. They are top quality, perfect fitting, and they have to be. Repair shops canít afford to do any job twice- it has to be right the first time. You may have seen poly rack bushing advertised on EBay or other places, at prices up to and over $75, and some shops charge over $125 (just for the parts). Thatís just outrageous. Now you can buy the same quality parts the pros use at a fraction of what they charge. This is a complete kit to do one car- 3 rack bushings, 3 steel liners, and 3 shims (sometimes required, but not always).
Here's a photo of this very important kit: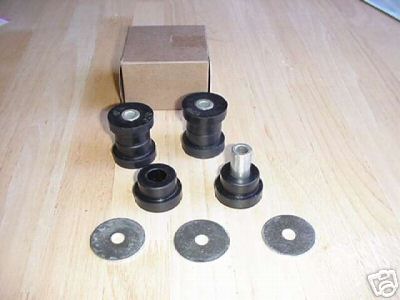 Front A-Arm Bushing Upgrade
Jaguar is well known for their precision suspensions, which yield a comfortable, yet tight and controlled ride. One soft spot in that area is the stock (rubber) A-arm bushings. As these car get on in years, the original rubber components, while not of top quality to begin with, now take on a very rubbery feel, causing the suspension to lose its crispness and precision. Jaguar Specialties offers replacement suspension bushings in 2 styles:
1) OE Jaguar style, rubber construction- These look and install just as the original factory pieces, but far exceed them as far as material quality and durability.
2) Polyurethane Upgrade- For those owners who want and even tighter feel, polyurethane replacement bushings are available. These are as easier to install than the originals and give the suspension a firmer ride, and tighter control. They are a nice complement to our poly rack bushing and sway bar upgrade kits. What's really nice about them is that although they do offer a more performance-oriented feel, they are very cost effective- only slightly more expensive than the standard replacement parts. These are molded in inobtrusive black poly- here's a photo of the poly suspension bushing kit: