Hot XJS-LS Projects Happening Now!!!
Well it's Spring for sure and suddenly there seem to be a lot of XJS convertibles getting LS power. Here are a couple of the more interesting cars coming together at customer locations. And there's a special bonus "mystery" project at the bottom for you to see…
1990 XJS Convertible- Crate ERod 6.2L LS3 and 4L60E (4 speed auto) trans:
This is actually a "reconversion"- the car was converted years ago with a 1995 Caprice LT1 engine (not using our kit/parts) and had an engine fire due to poorly installed fuel lines. The customer loves the car so the damage you see was be repaired and a new GM LS3 ERod is going in. For those not familiar, ERod is a special engine package GM offers that is emissions legal in California for all 1995 and earlier vehicles. The package includes the engine, wiring harness, special ECM, exhaust manifolds, specific catalytic converters, and even the oxygen sensors. Oh and by the way, it makes 430hp so this should be a really fun car....
As of this writing, the ERod LS3 has arrived at the shop along with a matching 4L60E transmission so we are ready to go. Here are some pics of the car as it arrived in a pretty sorry state, then after cleaned up (yes that is Cobra Daytona coupe in the background...), a nice shot of the LS3 just out of the crate, and lastly a good overhead pic of the engine sitting in the car for the first time. Notice how far back it sits- there is still plenty of space behind it for AC/heating system plumbing and an acre in front for good cooling air flow. The car is being built by Panavia LLC, Campbell, California. More on this one shortly……
1987 XJS (H&E)- 2015 Camaro 6.2L L99 and 6L80E (6 speed auto) trans:
This project is being done by a shop in Arizona for an owner who loves this very unusual XJS (besides being one of the hand built Hess and Eisenhardt convertibles, it also has a TWR body kit and other nice upgrades). These 2010 and up Camaro LS engines (called L99 and displacing 6.2L) make 400hp from the factory, which for most if us is plenty. But the owner actually wanted a bit more and a popular upgrade for them is a cam/lifters/springs package from Texas Speed, which will ultimately make some 470 hp or so when done. And keep in mind this XJS will also be losing some 400 lbs of engine weight-wow. As of this writing the car was just completed and delivered and was definitely putting a smile on the owner's face. Here are some pics of the car, the engine package, and the finished product sitting proudly under the hood- just beautiful. The car was built by Williams Brothers Auto Service, Show Low, Az.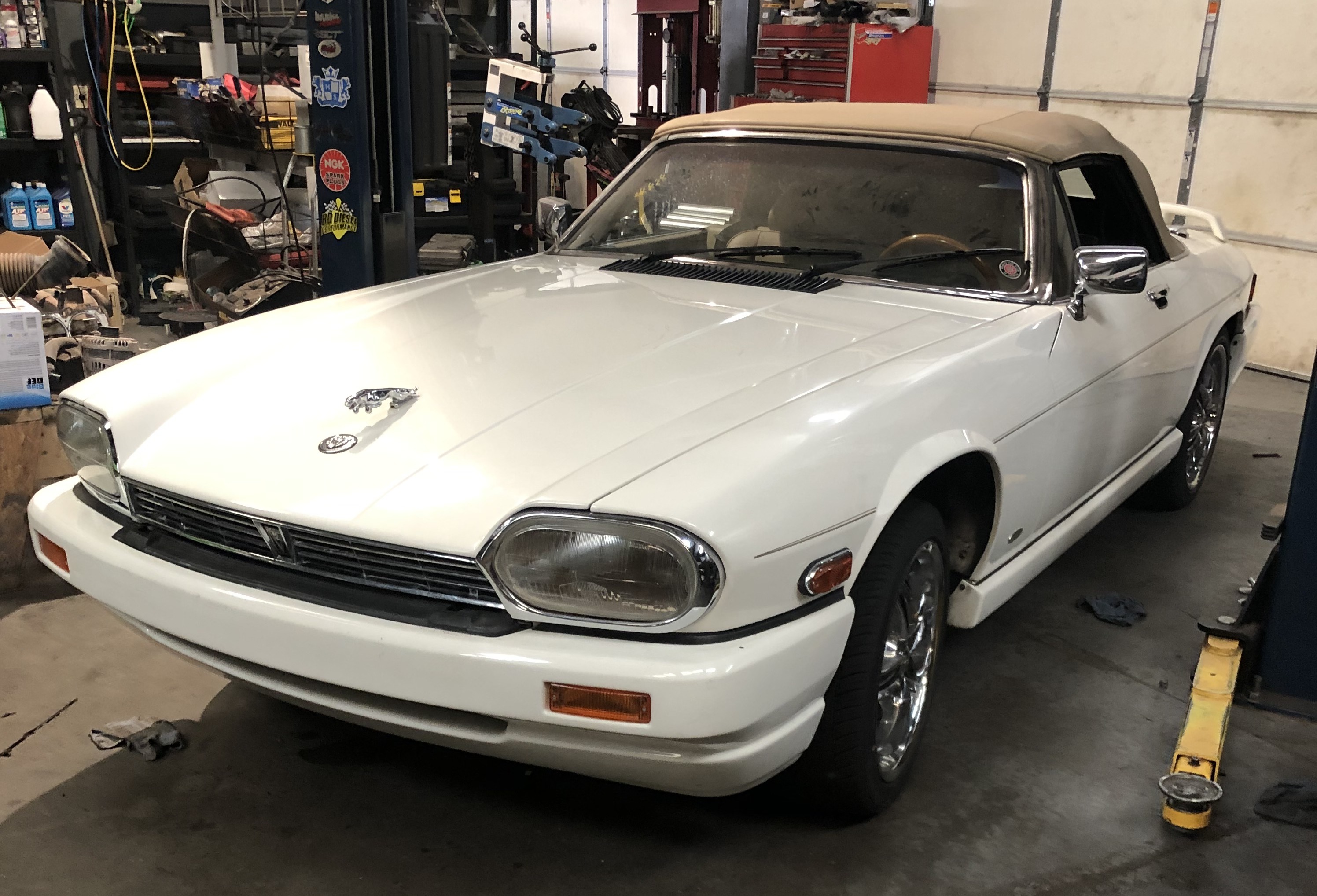 1987 XJSC: The mystery project.................
So technically, this is not an LS conversion (yet), but it's a really interesting car. It's a 1987 XJSC, a somewhat rare "almost-convertible" version of the XJS coupe that featured very unique removable pair of T-tops and removable rear roof section. This model was built in the Jaguar factory in limited numbers from 1986-1988, starting with a coupe shell that was modified to this configuration. With only some 5500 made (out of 120,000 total XJS production), this was Jaguar's answer for open-air motoring before they offered the XJS with a traditional folding top. I've always liked the XJSC, called the "Cabriolet" and I've owned a 1988 model since 2003, bought from the original owner. That car has been the subject of many conversion projects and upgrades over the years (you can see the major projects it's been through, including a recent LS1-6 speed manual upgrade, on the Project Car page- http://www.jaguarspecialties.com/project.asp ). Anyway, one Saturday evening recently I was doing what every red-blooded American does - that's right, cruising through Craigs List looking for interesting cars. There was the usual junk, also some nice cars, and then right there in the Jaguar section was an XJSC, and also nearby- something that doesn't pop up that often. Turns out it was a Lien Sale, offered by a local tow company after being removed from a local apartment complex parking lot. It was never claimed by the owner, so put up for sale.
Of course I had to go see it and in this case it was one of those 1 out of 10 used cars that was actually better in person than it appeared in the pics. It had a good body, decent paint, nice interior, only some 80,000 or so miles, and the optional rear hardtop with glass window. Some work was going on under the hood as there were 12 brand new, never used, fuel injectors (to the tine of the some $80 ea x 12 = $1000, ouch) loosely attached to the injection rail. As you can expect, I did what every red blooded American does after seeing a sharp classic car for sale that he doesn't really need- I bought it. A few days later the injectors were on their way to a Jag owner in Indianapolis, the V12 engine and trans came out and went to a local British car nut, the catalytic converters went to the recycler, those unusual Speedline/TWR wheels (unfortunately only 15") went to a Jaguar collector in Pa, and we now had a nice car with a big hole under the hood…..
Here are some pics- the car as arrived (it was a lot of fun getting it off the flatbed with the front wheels locked to the left- it came with no keys…), a nice shot of it giving up the V12 (I've done this a hundred times but you never get over how heavy that-aluminum- Jag V12 is….)
Well, while still unsure what to do engine wise, and while we were also shut in for the pandemic, I decided to fix what wrong with the chassis itself. To help somewhat with that effort, I also found a local, low miles 89 XJS coupe parts car that had no engine and had sat in a garage for 15 years- a perfect donor as needed. A mini project was launched over a couple of weeks to get this car ready for what comes next (likely a lot of LS power....)
Front suspension: The XJSC front suspension was tired (mostly from sitting around all these years) so it was completely disassembled, all of the pieces bead blasted and cleaned, and then painted with a heavy duty enamel (did you know that warm up metal parts in an oven and then painting gives a very hard baked on finish...). From there I installed polyurethane upper and lower A-arm and steering rack mount bushings, German made sealed-for-life ball joints, and fresh wheel bearings. I'm using a new design 1 piece lower poly bushing instead of the traditional multi-piece style (which have a hard time holding up on the lower A-arms; we'll see how these do. I had an older set of adjustable Koni front shocks on the shelf just sitting so they found their way into the mix as well... One of our 1" front sway bar upgrade kits is also on the list, just as soon as my bar bender gets done with a fresh batch...
Rear suspension: As far as the rear suspension, the XJSC had one of those odd "Dana" differentials (the one that has no drain plug and also is hard to get parts for ), so I decided too swap it with the unit from the donor coupe (that has a proper Dana 44 diff but also was lower miles). I would have preferred to have one of the later model 94-96 XJS rear with outboard brakes and 3.54 posi diff, but I haven't seen anything good lately, so this is it for the moment. It was thoroughly cleaned, I switched to a set of trailing arms with the rear sway bar link brackets, the trailing arm bushings and rear cage mounts were replaced (along with a little trick on the trailing arms to make them act like traction bars and stop axle tramp...).
Brakes: And of course in the process of all of this, the brakes were attended to with rebuilt calipers, fresh pads, brand new Brembo rotors all around, and stainless steel braided brake lines front and rear. As you would expect, I also put in a new master cylinder...
Here are some before and after pics of that work: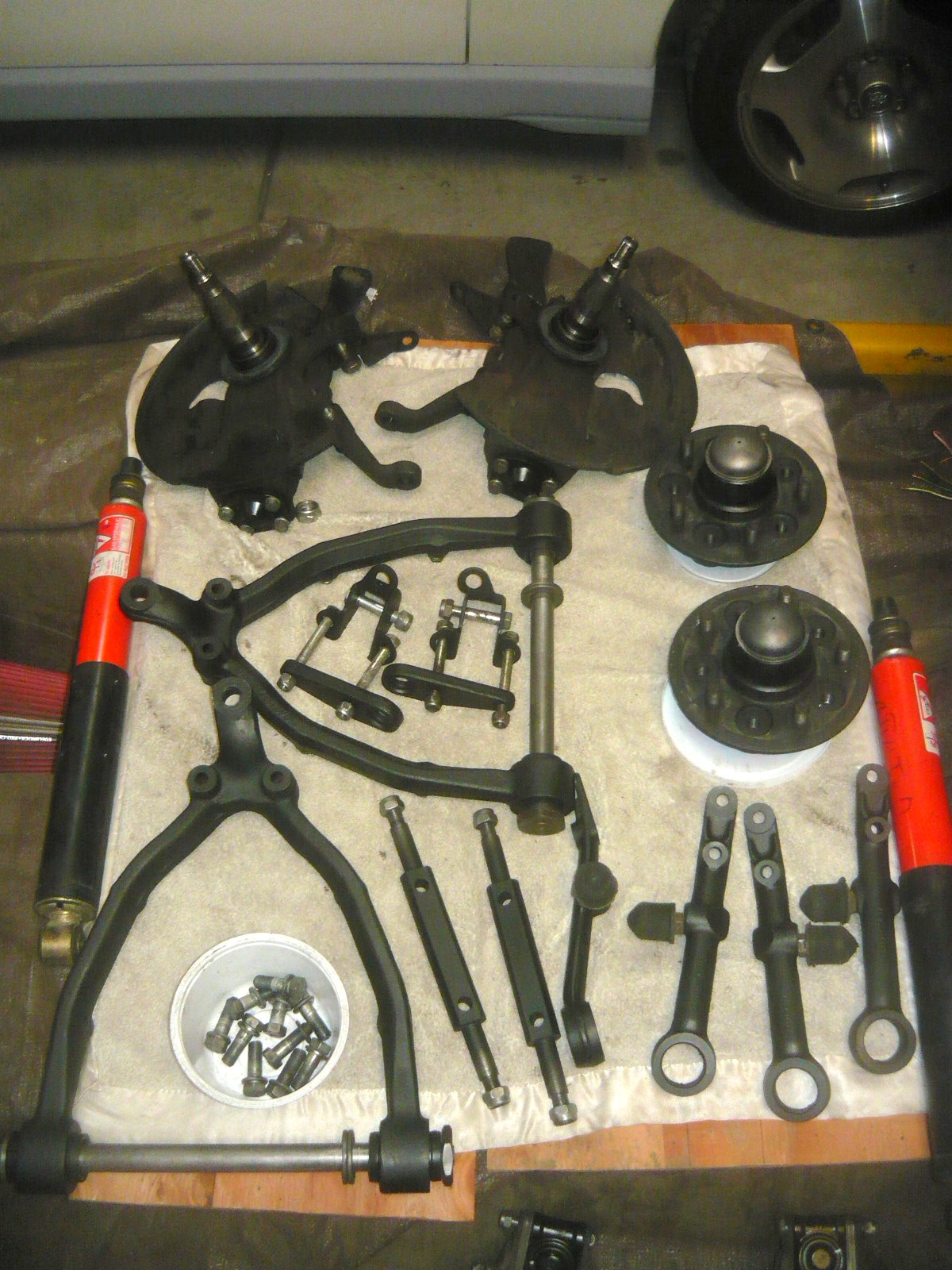 Fresh, clean, and painted- ready to reassemble And here is the finished front assembly
89 XJS rear suspension- cleaned some but still pretty grungy... And then the finished unit- with fresh brakes, new bushings, and more- is ready to go in
Fuel System: That's what I'm working on now. The fuel system (primarily the tank) was in pretty bad shape after sitting unused for some 17 years. Using all of the lines, sump tank, and fittings from the 89 coupe worked wonders (and using fresh fuel injection hose to rebuild any sections needing it). But the tank itself is just a disaster inside and it's unique to the XJSC- not the same as a coupe. I likely need a replacement, so the hunt is on. Anyone have one lying around???
And the coupe also has some other bits to give up for the XJSC- still to come.
But more importantly, what engine will end up in this car- LS2, LS3, or?? Stay in touch to find out........