Wild Jag-LS Projects -Spring 2022
Spring is upon is and in reality nearly summer now- I realized that again (this year) because the phone began ringing more often and Emails began to come in at a good clip. Jaguar owners are rolling out their cars, getting under the hoods, and pushing forward on their existing projects and many interesting new ones are getting underway. There are some really cool cars going together out there. Here's a little taste of the wide variety in the works:
76 XJ6C with 2002 Camaro LS1 and 4L60E
This car, going together at a shop in upstate New York, is the ultimate in Jag restomod. Everyone just loves the rare XJ coupes from the middle 70's, and they're fairly rare. A total of roughly 5000 left hand drive versions were built (6 cyl and 12 cyl, total), and a good guess is that of those perhaps 3500 came to the US. Now, almost 50 years later, how many are left? Anyway, this car retains the complete original look and feel but keeps the surprise under the hood where it should be. It looks and operates exactly as it did originally- standard Jag gauges, shifter, and even AC system, but with a genuine 345hp of modern, all aluminum V8 under the hood (and some 200lb or so weight reduction on the front end) it drives like something else. All of that was done using one of our LS conversion packages and the results speak for themselves. The Euro bumper kit (and soon to be installed 7" Euro headlight kit), complete the restomod appearance. A beautiful car to drive and enjoy.
87 XJ6/Vanden Plas with 2014 Camaro L99 (LS3) + 6L80E
Believe it or not, this is actually the second go around for this Jag owner and an LS conversion on a Series 3 XJ6. Hailing from Florida, a few years back he put together a FABULOUS 87 XJ6 using a Camaro LS1 and 4L60E. However, in a moment of weakness, and with a "how much do you want" offer, that car was sold and he regretted it every minute after that. Fast forward to fall 2021 and by chance he came across an ad for another low miles 87 needing some help under the hood and a new project was born. Using one of our LS conversion packages, a low miles 2014 Camaro L99 (LS3 with displacement on demand) and 6L80E (6 speed automatic) transmission went in. As was you can see in the pics, this new one is fantastic too. At this writing it has been up and running for a couple of months and pulled an honest 360 hp at the rear wheels on the dyno. To say it's a hoot to drive is an understatement, but with the displacement on demand feature (which disables up to 4 cylinders under light driving load) it's possible it could get close to 30 mpg on the highway as well…..
87 XJ6/Vanden Plas with 2002 Camaro LS1 and 4L60E.
Oh and since you asked, here is that same customer's earlier LS-Jag project- an 87 XJ6 with 2002 Camaro LS1. This is from a couple of years ago- can you believe the craftsmanship that went into this one? And it's not just a pretty face- it also sports a later XJS rear suspension wit 3.54 posi diff and outboard rear brakes- very snappy off the line.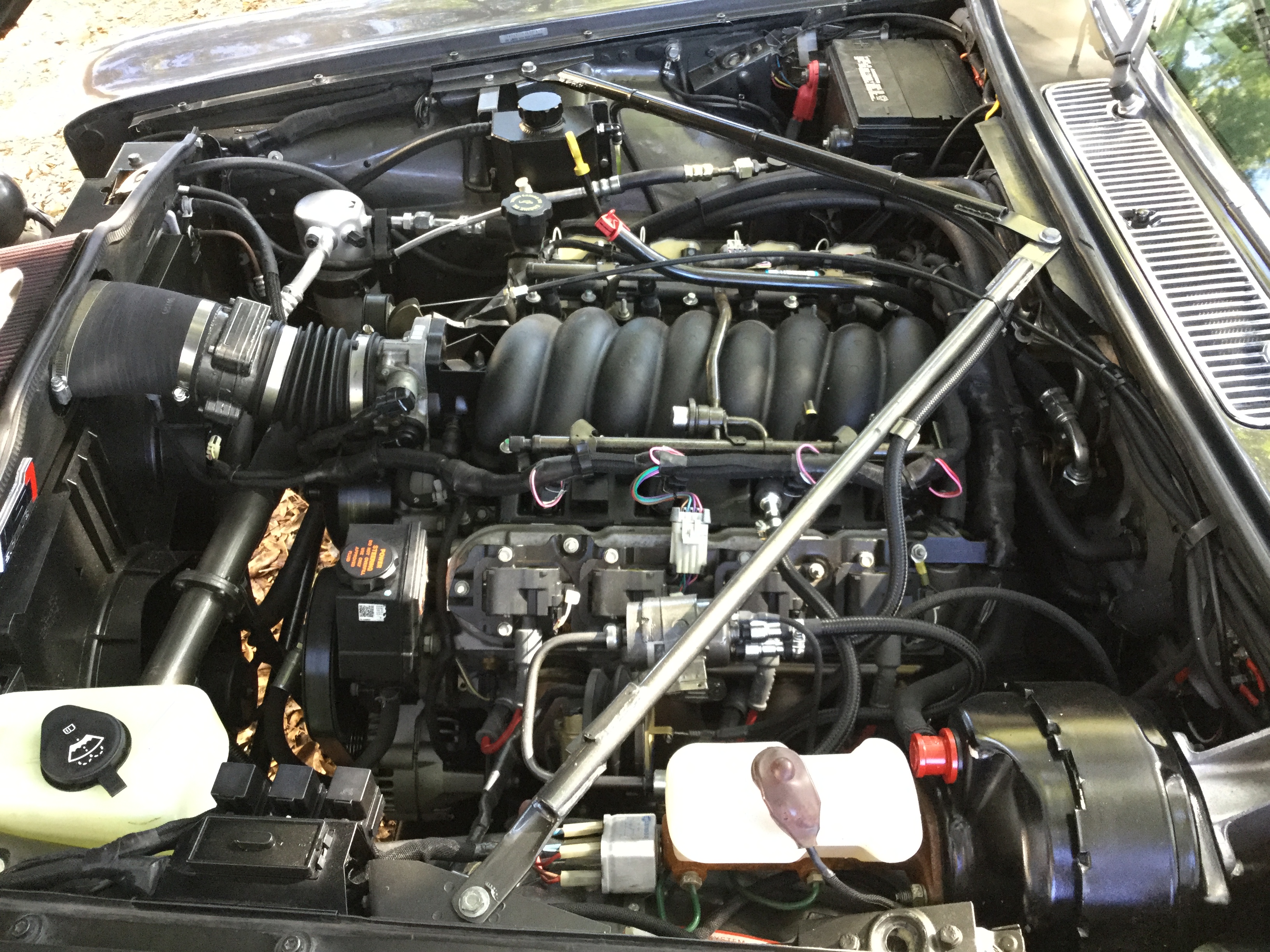 97 XK8 with LS3 495hp and 6L80E
So on the subject of sleepers, this one may take the cake. Tucked up in the Pacific Northwest was this original owner, 80k original miles, 1997 XK8 convertible that had a major overheating problem and cooked the engine. The owner is a long time car enthusiast, owning several high end cars over the years and even rented out the local racetrack one year on his birthday to open up his Ferrari a bit. Anyway, he loved the Jag but after many years of fighting engine issues, and the final catastrophic overheating, he wanted something else. In this case one of our XK8 LS conversion kits and a Chevrolet Performance Connect and Cruise LS3 (495 hp) engine and 6L80E transmission fit the bill. As of this writing the car is up and running/driving and is quite the performer. The builder, friend of the owner, made some remarks to the effect of he didn't remember the driver seat creaking as much before the conversion. It's quite the sleeper- looks total original outside… Here are some pics of the car and the install—enjoy.
75 XJ6C with Cadillac CTS-V 556hp Supercharged LSA and 6L90 (6 speed automatic trans).
That's right –the engine combo above is not a typo. This customer from New Zealand used one of our LS-Jag conversion packages and a supercharged XTS-V drivetrain (shipped from the US) to assemble what has to be the ultimate XJ6C. The 556hp on tap and the close gear spacing of the 6L90E, to say the car is a rocket is an understatement. Out back a 3.54 posi diff helps transfer all that power to the ground, but let's face it, getting the tires to spin here is basically a light tap of the gas pedal on this car. As you can see the fit is very nice and tidy and the outward appearance of the car does not hint anything is special under the hood. That is until the pedal goes down and all you see is the rear bumper disappearing into the distance. On the dyno the car made 426 hp at the rear wheels……
The Covid car- our project- 87 XJSC with 2004 GTO LS1 and 4L60E
So this is a car I happened upon by accident on Craigs List in February of 2020. I've always liked this model with its removable tops- have had an 88 XJSC since 2003, that one with first with a Camaro LT1 and 6 speed manual and now with a Camaro LS1 and 6 speed manual. Well, at the time I wasn't sure why I needed another one, so I thought I would put it away for a time when I had more time. Well you all know what happened in March of 2020- everything shut down, the phone calls slowed, so I suddenly had time. And I dove right in. This car had been sitting, never driven or even started, since 2003. The V12 was low miles and still cranked over so it came along with everything related to it. The front suspension and brakes all around were rebuilt. A later rear suspension from a 95 XJS (with 3.54 posi and outboard vented disc brakes went in (I'm experimenting with a set of 19" TSW wheels from a CTS-V here; the car isn't lowered yet which should reduce the wagon wheel look.....).
The LS1 for this car is actually an old friend- it is the very same 2004 GTO unit that I used to build the prototype 1998 XK8 LS1 conversion car. That XK8 is long gone and the engine had been sitting on a stand since 2015. The XJSC is a perfect place for it, and along with a rebuilt 4L60E from a 2002 Camaro donor (that also donated its engine wiring harness), we'll have an LS1 powered XJSC with an automatic (my wife can't drive a stick…).
The fuel system was a mess- the gas tank was an unbelievable combination of 20 year-old fuel, rust, and a poorly done tank relining years ago. That tank came out and since the XJSC is a unique model, replacement tanks are NLA...... So 8 gallons of acetone to dissolve the old liner, 2 trips through the hot tank to remove the scale, 3 passes thorough the acid bath to remove rust and I had a decent tank again. Here are some pics along the way for that process- the tank is done and finally back in the car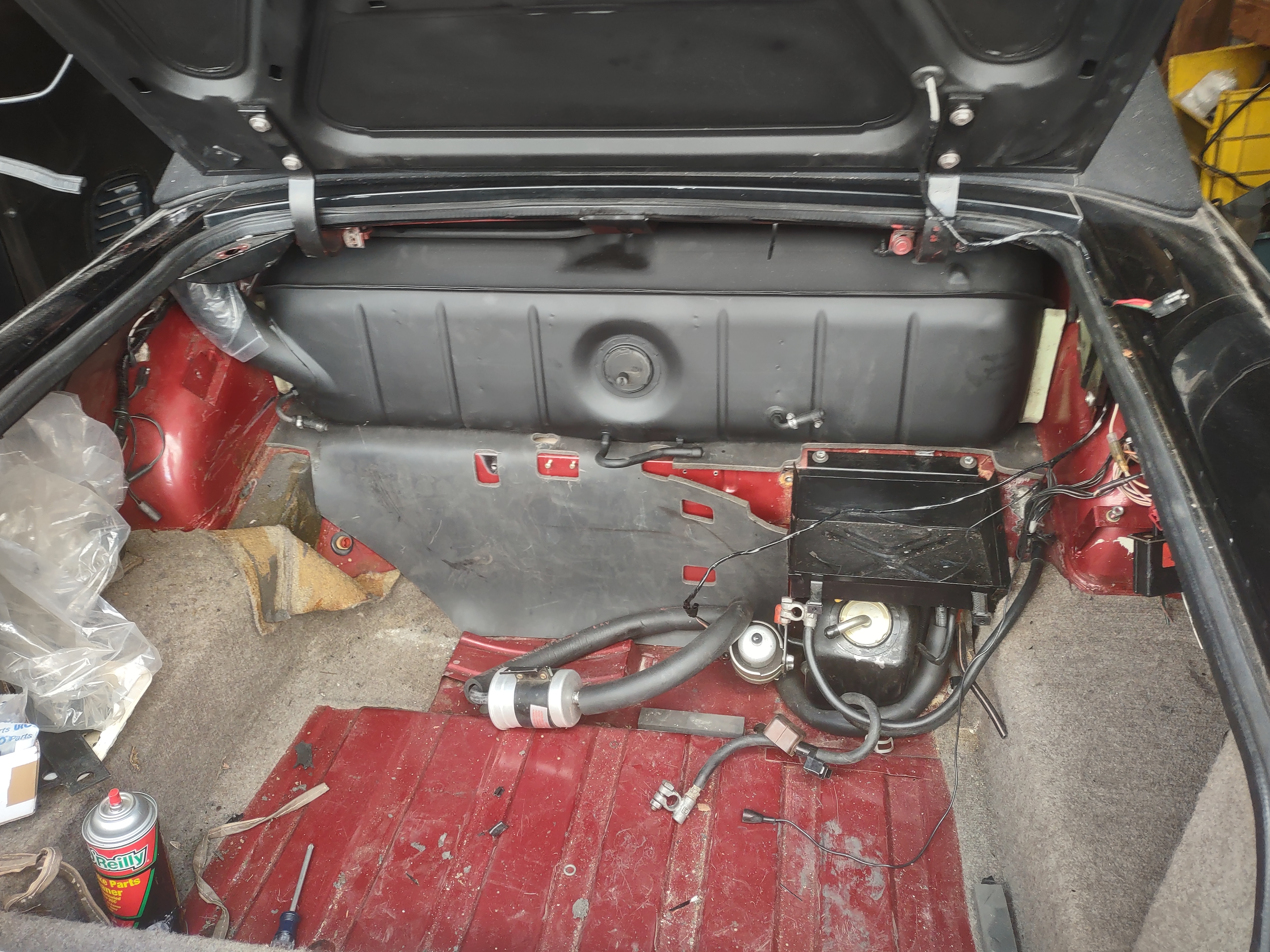 The wiring being used is from a 2002 Camaro and is being modified for standalone (we always use the factory harnesses as all of these cars go through California emissions- the inspectors like to see factory wiring....). Here in these pics you can see the Camaro main engine harness on the engine with the leads to be connected elsewhere all tagged in blue. The next pics are of the Camaro engine compartment harness which includes all of the key fuses (battery and ignition power), relays (fuel pump, fans, AC compressor), and the connections to the engine harness above. All of the unnecessary stuff is removed (Camaro lights, ABS wiring, wiper, and so on) and the harness is about 50% of its original size when done...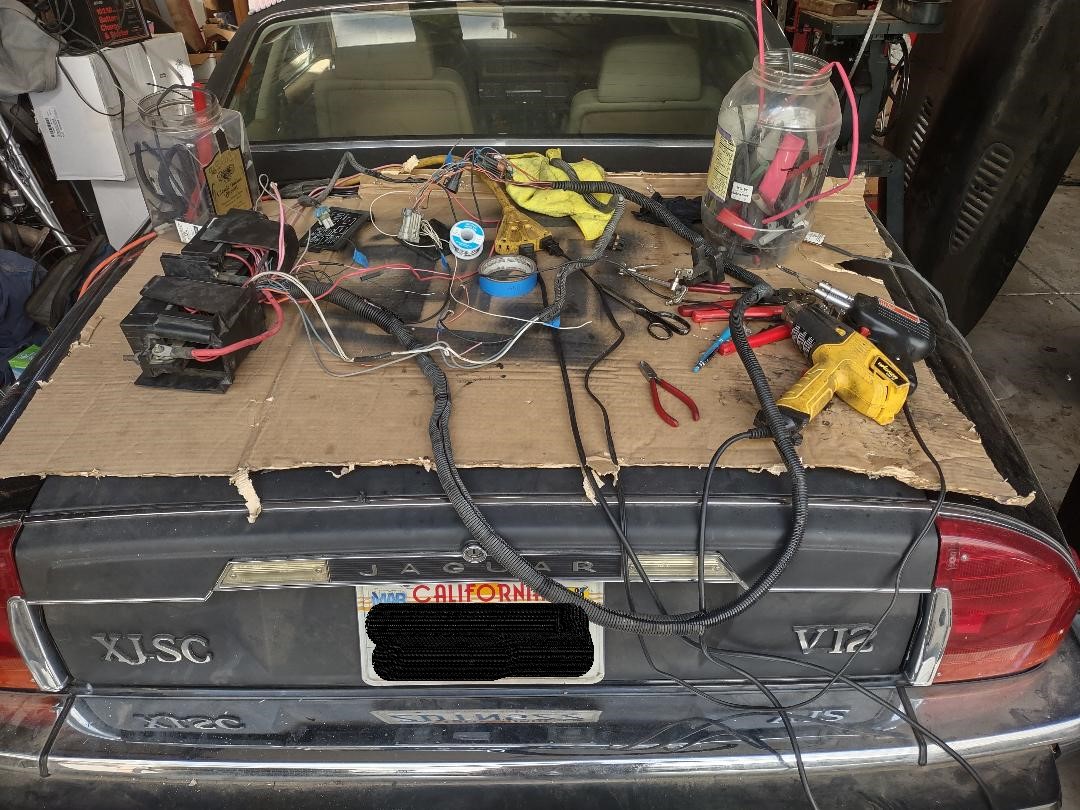 And this car has a few unique add-ons like the complete interior from a 89 coupe, including its Recaro front seats and complete back seat (none of the XJSC's ever built at the factory had a rear seat except for one- built for Princess Diana to cart young Harry and William around- obscure Jag trivia). Soon to be on the road- stay tuned…. Here are some pics